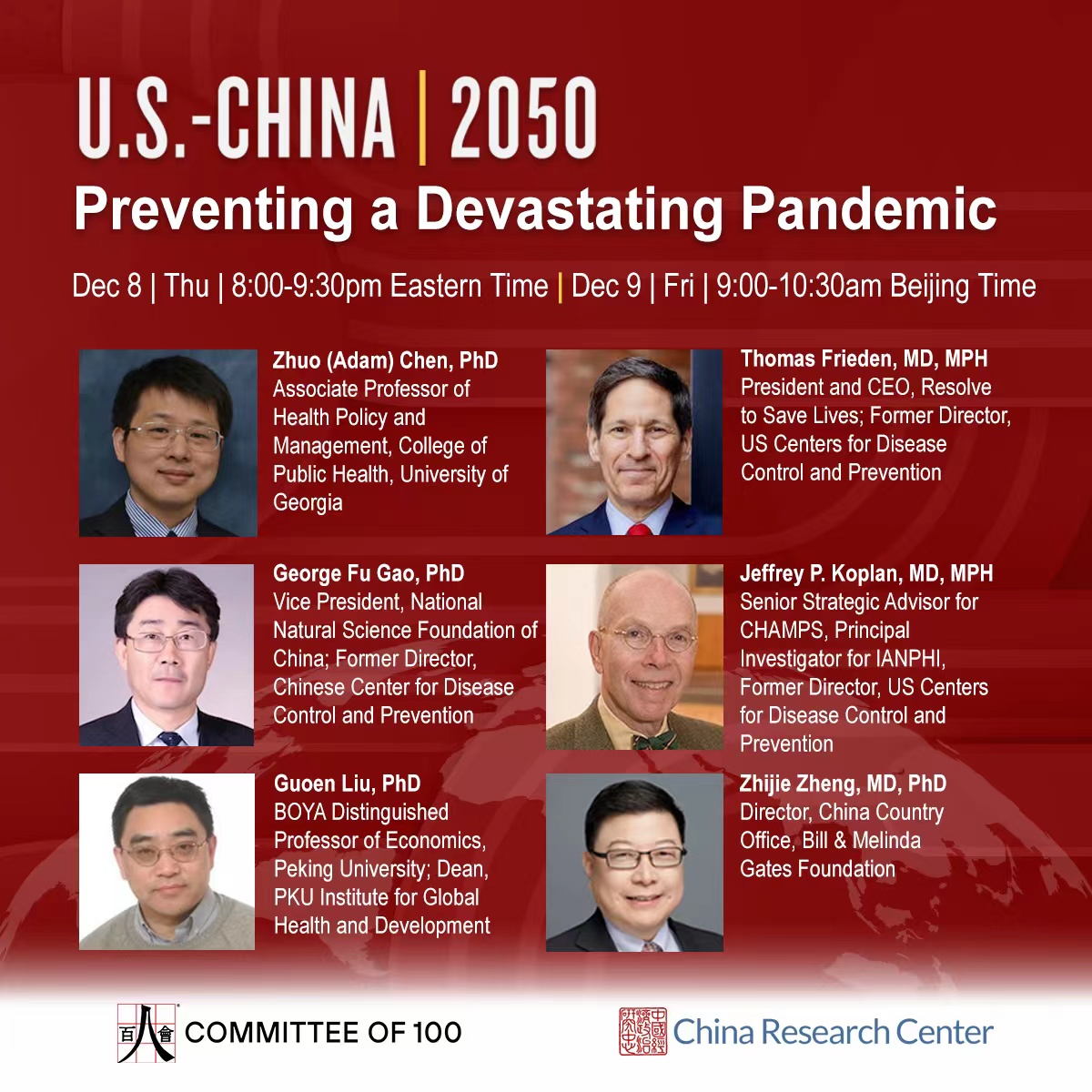 About the series:
Committee of 100 is launching a new thought leadership series in collaboration with leading universities and think tanks across the country. The thought leadership series will look at key topics that the U.S. and China have an independent and joint interest in. Our goal for this series is to bypass the heated rhetoric of the moment and bring to bear the complexity and nuances of common challenges facing the United States and China, and how each country might tackle the challenge differently in the long term.
About the webinar:
With China being the first country to be struck by COVID and the US being the country that suffered the most infections and death toll, each country has been dealing with pandemic situation that is unique to their country.
We are gathering infectious disease experts from each country to discuss how the next thirty years might look like for pandemics, what they have learned from dealing with COVID-19 that will help us prepare for and prevent a devastating pandemic. The panel will also take questions from the audience.
This webinar is co-organized with the China Research Center.
Moderator:
Zhuo (Adam) Chen, PhD, Associate Professor of Health Policy and Management, College of Public Health, University of Georgia
Dr. Zhuo (Adam) Chen is Associate Professor and DrPH Program Coordinator, Department of Health Policy and Management, College of Public Health, University of Georgia, Athens, Georgia, USA; and Visiting Professor of Health Economics, School of Economics, University of Nottingham Ningbo China. Dr. Chen's research has focused on health inequality and social determinants of health in both China and United States, applied health econometrics, economic evaluation, and China's agricultural efficiency and labor market. He earned his B.S. and M.Mgt. in Management Science from the University of Science and Technology of China, and his Ph.D. in Economics and M.S. in Statistics from the Iowa State University. Before Dr. Chen joined the University of Georgia, he was a senior health economist with the US Centers for Disease Control and Prevention (CDC). Dr. Chen has served as the President (2017-2018) of the Chinese Economists Society and President (2016-2018) of the China Health Policy and Management Society, both based in the US. He was a recipient of the CDC Excellence in Social and Behavioral Science Research Award in 2013 for his work on examining the role of geographic scale in testing the income inequality hypothesis. Dr. Chen received the Excellence in Diversity Civilian Award from the Federal Asian and Pacific Americans Council in 2016 for his work promoting diversity and inclusion at CDC.
Speakers:
Thomas R. Frieden, MD, MPH, President and CEO, Resolve to Save Lives; Former Director, US Centers for Disease Control and Prevention
Dr. Tom Frieden is a physician trained in internal medicine, infectious diseases, public health, and epidemiology. He is former director of the US Centers for Disease Control and Prevention and former commissioner of the New York City Health Department. Dr. Frieden is currently President and CEO of Resolve to Save Lives.
Dr. Frieden began his public health career in New York City confronting the largest outbreak of multi-drug resistant tuberculosis to occur in the US. He was then assigned to India, on loan from the Centers for Disease Control and Prevention, where he helped scale up a program for effective tuberculosis diagnosis, treatment, and monitoring. Asked to return to New York City to become Mayor Mike Bloomberg's Health Commissioner, he directed efforts to reduce smoking and other leading causes of death that increased life expectancy by 3 years. As Director of the US Centers for Disease Control and Prevention, Dr. Frieden oversaw the work that helped end the 2014 West Africa Ebola epidemic. He now leads Resolve to Save Lives that works with countries to prevent 100 million deaths and to make the world safer from epidemics. During the Covid pandemic, Dr. Frieden has overseen an expansion of Resolve to Save Lives activities including policy and program innovations in the United States, counsel to multilateral institutions, and support for rapid response, health care worker safety, and data-driven decision-making in more than 20 countries.
Dr. Frieden is also Senior Fellow for Global Health at the Council on Foreign Relations.
George Fu Gao, PhD, Director, CAS Key Laboratory of Pathogen Microbiology and Immunology, Institute of Microbiology and Dean, Savaid Medical School, the University of Chinese Academy of Sciences; Former Director-General, Chinese Center for Disease Control and Prevention
Gao has been a key leader in the public health field, making remarkable contributions to research and discovery through basic research, clinical evaluation and advocacy. He has made many remarkable contributions to the scientific field of control and prevention of emerging infectious diseases. Gao has pioneered and made numerous significant original breakthroughs on the pathogenesis mechanisms and pathogen-host interaction of emerging infectious pathogens, including flu, Ebola, MERS, Zika & SARS-CoV-2 viruses, which would greatly facilitate rational design of antiviral drugs and vaccines. His anther great contribution is his work on global health. Gao has given great concern on global health and made substantial efforts in furthering bilateral and multi-lateral health cooperation. Gao pioneers the COVID-19 research and control with virus discovery, vaccine and therapeutic monoclonal antibody development etc. Gao is not only an advocator, but also a practitioner of global health. He obtained his DPhil degree from Oxford University, UK and did his postdoc work in both Oxford University and Harvard University (with a brief stay in Calgary University). Gao worked in Beijing Agricultural University (1986-1991), Oxford University (2001-2006), Institute of Microbiology, Chinese Academy Sciences (2004-2008, Director-General). China CDC (Director-General, 2017-2022), National Science Foundation of China (Vice-President, 2018-). Gao is a member (academician) of Chinese Academy of Sciences (CAS), an international member of the U.S. National Academy of Sciences (NAS), a foreign member of the U.K. Royal Society (RS), a member of the German National Academy of Sciences Leopoldina, a fellow of African Academy of Sciences and a fellow of The World Academy of Sciences (TWAS).
Jeffrey P. Koplan, MD, MPH, Senior Strategic Advisor for CHAMPS, Principal Investigator for IANPHI, and the Global Health Institute-China Tobacco Control Partnership; Former Director, US Centers for Disease Control and Prevention
Dr. Jeffrey P. Koplan is Professor of Medicine and Global Health at Emory University and previously was Vice President for Global Health at Emory from 2006 to 2021. He established and served as the Director of the Emory Global Health Institute from 2006-2013. A former Director (1998-2002) and 26-year veteran of the U.S. Centers for Disease Control and Prevention (CDC), Dr. Koplan began his public health career in the early 1970s as a member of the CDC's Epidemic Intelligence Service.
He has played a key role in a variety of domestic and global public health issues, from infectious diseases such as smallpox, SARS, and HIV/AIDS, environmental issues such as the Bhopal chemical disaster, to the health tolls of tobacco, obesity, and chronic diseases. He was the founding Director of CDC's National Center for Chronic Disease Prevention and Health Promotion. His work has included extensive international assignments in Bangladesh, India, Trinidad and Tobago, as well as US-China bilateral projects, World Bank missions, and World Health Organization consultations. From 1993 to 1998, he was President of the Prudential Center for Health Care Research.
Dr. Koplan is a Master of the American College of Physicians, and a member of the National Academy of Medicine (NAM), where he chaired the Committee for Prevention of Childhood Obesity from 2003-2009. He was a trustee of The Robert Wood Johnson Foundation and Yale University. He is currently a Kaiser Permanente – Georgia Board member and serves on the Board of The China Medical Board. He chaired the Visiting Committee for the Harvard T. H. Chan School of Public Health for 8 years. He is a co-founder and former President of the International Association of National Public Health Institutes (IANPHI). Dr. Koplan is also a senior investigator of the Child Health and Mortality Prevention Surveillance Network (CHAMPS), a major program of the Bill and Melinda Gates Foundation. Dr. Koplan is author of more than 240 scientific papers.
Guoen Liu, PhD, BOYA Distinguished Professor of Economics, Peking University; Dean, PKU Institute for Global Health and Development; and Director, PKU China Center for Health Economic Research (CCHER)
Prof. Liu currently serves as co-organizer for the "US-China Track II Dialogue on Health", and sits on the China National Expert Panel on COVID-19, and the State Council Health Reform Advisory Commission. He also has served as associate editor for academic journals including China Economic Quarterly, Health Economics, and the Editor-in-Chief for China Journal of Pharmaceutical Economics. Prior to joining Peking University, he was on fulltime faculty at University of Southern California (1994-2000), and University of North Carolina at Chapel Hill (2000-2006). He was the 2004-2005 President of Chinese Economists Society (CES), and the 2004-2006 President of ISPOR Asian Pacific Consortium.
Zhijie Zheng, MD, PhD, Director, China Country Office, Bill & Melinda Gates Foundation
Professor Zhi-Jie (ZJ) Zheng leads the foundation's efforts to develop and strengthen partnerships across China's public, private, and nonprofit sectors to advance health and development outcomes in China and around the world. Before joining the foundation in October 2021, Dr. Zheng was at Peking University, serving as K.C. Wong Chair Professor and Head of the Department of Global Health in the School of Public Health and senior vice dean of the university's Institute for Global Health and Development. He previously served as dean of the School of Public Health at Shanghai Jiao Tong University, as supervisory medical officer and senior program director at the National Heart, Lung, and Blood Institute at the U.S. National Institutes of Health, and as lead epidemiologist and section chief in the Division for Heart Disease and Stroke Prevention at the U.S. Centers for Disease Control and Prevention. Dr. Zheng earned his M.D. from Fudan University in Shanghai, China, along with an M.A. in biomedical ethics. He also holds an M.P.H. in health services research and a Ph.D. in epidemiology from the Gillings School of Global Public Health at the University of North Carolina at Chapel Hill in the United States. He is a Fellow of the American College of Cardiology (FACC) and the American Heart Association (FAHA).